Race Defamation
A Postcolonial Reading of Derek Walcott's Dream on Monkey Mountain
Keywords:
Post colonialism, race, black, Derek Walcott, Dream on Monkey Mountain
Abstract
As a postcolonial text, Dream on Monkey Mountain depicts the colonial discourses regarding the black. Derek Walcott has vividly presented the sufferings of the black in his play. The inferiority of the black is explicitly reflected in which the white is superior and the black is less than human beings. The best method to approach this text is from a postcolonial viewpoint. Major postcolonial concepts such as othering, mimicry and hybridity. The importance of this study is that major postcolonial legacies are mirrored in this play. The portrayal of racism and the weakness of the blacks are openly presented.
Downloads
Download data is not yet available.
References
Abd-Aun, R. (2015). Recovery of Identity in Derek Walcott's Dream on Monkey Mountain. International Journal of Science and Research (IJSR), 4 (10), p. 2159.
Bhabha, H. K. (1994). The Location of Culture. London: Routledge.
Ashcroft, B. and Helen, T. (2007). Post-Colonial Studies: The Key Concepts, 2nd Ed. London: Rutledge.
Darwin, C. (1997). On the Origin of Species. London: ElecBook.
Galens, D. (2002). Literary Movements for Students: Volume 1 and 2.New York: Thomson & Gale.
Hamner, R. D. (1997). Critical Perspectives on Derek Walcott. U.S.A: Lynne Rienner Publisher.
Haney, W. S. (2005). Hybridity and Visionary Experience: Derek Walcott's Dream on Monkey Mountain. Mystics Quarterly, 31 (3/4), pp. 81-108.
Hogan, P. C. (1994). Mimetic, Reactionary Nativism, and the Possibility of Postcolonial Identity in Derek Walcott's Dream on Monkey Mountain. Research in African Literatures, 25 (2), pp. 103–119.
Hutnyk, J. (2005). Hybridity. Ethnic and Racial Studies, 28, (1), pp. 80-81.
Josephs, K. B. (2010). Dreams, Delirium, and Decolonization in Derek Walcott's Dream on Monkey Mountain. A Caribbean Journal of Criticism,14 (2), p. 1161.
Milne, I. M. (2009). Literary Movements for Students. Farmington Hill: Gale.
Mjoberg, J. (2021). A Single, Homeless, Circling Satellite: Derek Walcott 1992 Nobel Literature. NobelPrize.org. <https://www.nobelprize.org/prizes/literature/1992/walcott/article/>
Said, E. (1978). Orientalism. London: Routledge.
Thieme, J. (1999). Derek Walcott. Manchester: Manchester University Press.
Tyson, L. (2006). Critical Theory Today. 2nd Ed. New York: Routledge.
Uhrbach, J. R. (1986). A Note on Language and Naming in Dream on Monkey Mountain. Callaloo, Autumn, (29), pp. 578-582.
Walcott, D. (1970). Dream on Monkey Mountain and Other Plays. New York: Farrar, Straus and Giroux.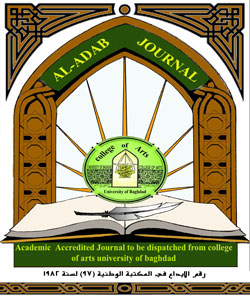 Downloads
How to Cite
Fatah, S. M. (2023). Race Defamation: A Postcolonial Reading of Derek Walcott's Dream on Monkey Mountain. Al-Adab Journal, 1(144), 85–96. https://doi.org/10.31973/aj.v1i144.3972
Section
English linguistics and literature
License
Copyright (c) 2023 Shokhan Mohammed Fatah
This work is licensed under a Creative Commons Attribution 4.0 International License.
Copyright and Licensing:
For all articles published in Al-Adab journal, copyright is retained by the authors. Articles are licensed under an open access Creative Commons CC BY 4.0 license, meaning that anyone may download and read the paper for free. In addition, the article may be reused and quoted provided that the original published version is cited. These conditions allow for maximum use and exposure of the work.
Reproducing Published Material from other Publishers: It is absolutely essential that authors obtain permission to reproduce any published material (figures, schemes, tables or any extract of a text) which does not fall into the public domain, or for which they do not hold the copyright. Permission should be requested by the authors from the copyrightholder (usually the Publisher, please refer to the imprint of the individual publications to identify the copyrightholder).
Permission is required for: Your own works published by other Publishers and for which you did not retain copyright.
Substantial extracts from anyones' works or a series of works.
Use of Tables, Graphs, Charts, Schemes and Artworks if they are unaltered or slightly modified.
Photographs for which you do not hold copyright.

Permission is not required for: Reconstruction of your own table with data already published elsewhere. Please notice that in this case you must cite the source of the data in the form of either "Data from..." or "Adapted from...".
Reasonably short quotes are considered fair use and therefore do not require permission.
Graphs, Charts, Schemes and Artworks that are completely redrawn by the authors and significantly changed beyond recognition do not require permission.
Obtaining Permission
In order to avoid unnecessary delays in the publication process, you should start obtaining permissions as early as possible. If in any doubt about the copyright, apply for permission. Al-Adab Journal cannot publish material from other publications without permission.
The copyright holder may give you instructions on the form of acknowledgement to be followed; otherwise follow the style: "Reproduced with permission from [author], [book/journal title]; published by [publisher], [year].' at the end of the caption of the Table, Figure or Scheme.