The Ex-pats Go to War
Hemingway, Paris and the Recovery of American Identity
Keywords:
America, Europe, exile, Hemingway (Ernest), identity, Lost Generation, war
Abstract
The present research is devoted to the post-WWI social and cultural milieu that made possible the intellectual and artistic effervescence characterizing the literary production of the American ex-pat writers in Paris during the 1920s and 1930s. The research is structured in an Introduction, four chapters, and Conclusion. After a necessary general presentation, the researcher goes deeper into the analysis of the identity crisis experienced by several American writers in exile, whom Gertrude Stein, herself an ex-pat, called "the Lost Generation" – among them, Ernest Hemingway, F. Scott Fitzgerald, John Dos Passos, Sinclair Lewis, and Samuel Putnam. Starting from the assumption that by discovering Europe, the American writers discovered themselves, the researcher chose Hemingway to represent the post-WWI generation of American ex-pats and followed the writer's search for identity, seen as a process of singularization based on recognizing that we share a common origin or circumstances with another person or community. Ample space is devoted to Hemingway's novel The Sun Also Rises, where a feeling of uselessness and nonsense accompanies the characters. Having (re)discovered their identity in Paris, many returned to their native America, rediscovering her as more disappointing than expected.
Downloads
Download data is not yet available.
References
Arendt, H. (1998). The Human Condition. The University of Chicago Press.
Baker, C. (Ed.) (1981). "The Private Hemingway," excerpts from Ernest Hemingway: Selected Letters, 1917-1961, edited by Carlos Baker, from the 15 Feb. 1981 New York Times
Barrett, W. (1972). Time of Need: Forms of Imagination in the Twentieth Century. Harper & Row.
Fitzgerald, F. S. (2010). This Side of Paradise. Penguin Classics. (Original work published 1920)
Fitzgerald, F. S. Tender is the Night. (2003). Scribner. (Original Work published 1934)
Hall, S., & du Gay, P. (eds.). (1996). Questions of Cultural Identity. Sage.
Hemingway, E. (1954). The Sun Also Rises. Scribner. (Original work published 1926)
Hemingway, E. (1996). A Moveable Feast. Arrow Books Limited. (Original work published 1964)
Hemingway, E. (2003). A Farewell to Arms. Scribner. (Original work published 1929)
Hemingway, E. (2003). The Garden of Eden. Scribner. (Original work published 1986)
King James Bible. (2008). Oxford University Press. (Original work published 1769)
Lennox, S. (1977). "We Could Have Had Such a Damned Good Time Together": Individual and Society in "The Sun Also Rises" and "Mutmassungen über Jakob." Modern Language Studies, 7(1), 82–90. https://doi.org/10.2307/3194157
McMahon, J. H. (1964). "City for Expatriates." Yale French Studies, 32, 144–158. https://doi.org/10.2307/2929445
Meyers, J. (1994). Scott Fitzgerald. A Biography. MacMillan.
Putnam, S. (1947). Paris Was Our Mistress: Memoirs of a Lost and Found Generation. Viking.
Stein, G. (1996). Paris. France. Liveright.
Taylor, K. (2002). Sometimes Madness Is Wisdom: Zelda and Scott Fitzgerald: A Marriage. Robson.
Trogdon, R. W. (1999). Ernest Hemingway: A Literary Reference. Carroll & Graf Publishers.
Williams, R. (1977). Marxism and Literature. Oxford University Press.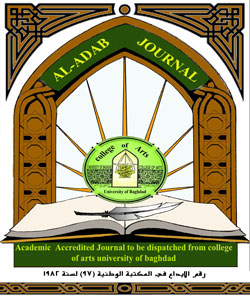 Downloads
How to Cite
Alolaiwi, H. N. S. (2023). The Ex-pats Go to War: Hemingway, Paris and the Recovery of American Identity. Al-Adab Journal, 1(144), 11–28. https://doi.org/10.31973/aj.v1i144.3775
Section
English linguistics and literature
License
Copyright (c) 2023 Hayder Naji Shanbooj Alolaiwi
This work is licensed under a Creative Commons Attribution 4.0 International License.
Copyright and Licensing:
For all articles published in Al-Adab journal, copyright is retained by the authors. Articles are licensed under an open access Creative Commons CC BY 4.0 license, meaning that anyone may download and read the paper for free. In addition, the article may be reused and quoted provided that the original published version is cited. These conditions allow for maximum use and exposure of the work.
Reproducing Published Material from other Publishers: It is absolutely essential that authors obtain permission to reproduce any published material (figures, schemes, tables or any extract of a text) which does not fall into the public domain, or for which they do not hold the copyright. Permission should be requested by the authors from the copyrightholder (usually the Publisher, please refer to the imprint of the individual publications to identify the copyrightholder).
Permission is required for: Your own works published by other Publishers and for which you did not retain copyright.
Substantial extracts from anyones' works or a series of works.
Use of Tables, Graphs, Charts, Schemes and Artworks if they are unaltered or slightly modified.
Photographs for which you do not hold copyright.

Permission is not required for: Reconstruction of your own table with data already published elsewhere. Please notice that in this case you must cite the source of the data in the form of either "Data from..." or "Adapted from...".
Reasonably short quotes are considered fair use and therefore do not require permission.
Graphs, Charts, Schemes and Artworks that are completely redrawn by the authors and significantly changed beyond recognition do not require permission.
Obtaining Permission
In order to avoid unnecessary delays in the publication process, you should start obtaining permissions as early as possible. If in any doubt about the copyright, apply for permission. Al-Adab Journal cannot publish material from other publications without permission.
The copyright holder may give you instructions on the form of acknowledgement to be followed; otherwise follow the style: "Reproduced with permission from [author], [book/journal title]; published by [publisher], [year].' at the end of the caption of the Table, Figure or Scheme.