A MARXIST READING OF MARGARET ATWOOD'S THE HANDMAID'S TALE
Keywords:
The Handmaid's Tale, Atwood, patriarchy, Marxist Feminism, persecution
Abstract
Margaret Atwood's The Handmaid's Tale is a salient dystopian fiction considered as an allusion to the reader's reality, where it highlights a futuristic totalitarian regime in which people are dehumanized and live in horror and indignity. However, the purpose of this article is to explore the class conflict between the various women's social classes under the Gileadean regime and its resulting persecution. Moreover, this study adopts Marxist Feminism as a theoretical framework to read the text and explore the implications of social class conflicts and clashes among women in the household. Consequently, the current paper reached the following findings: First, the Gileadean regime deliberately creates differences among the women in the household in order to exploit them and creates a state of conflict among themselves. Second, the regime fabricated a false consciousness among each class, especially the Handmaids, to deceive them and make them think they are superior in society in order to keep them under control so as to be used as sacred vessels or fertile reproduction machines for the infertile women of high class. Finally, Gilead was able to make women turn on each other as the upper class of women played the role of patriarchy in persecuting the inferior classes of women.
Downloads
Download data is not yet available.
References
Aronson, P. (2003). Feminists or "Postfeminists"?: Young Women's Attitudes toward Feminism and Gender Relations. Gender and Society, 17(6), 903–922.
Atwood, M. (2006). The Handmaid's Tale. Alfred A. Knopf.
Barbalet, J. M. (2015). Marx's Construction of Social Theory (RLE Marxism). Routledge.
Bloom, H. (2009). The Handmaid's Tale. Infobase Publishing.
Brantly, S. (2017). The Historical Novel, Transnationalism, and the Postmodern Era: Presenting the Past. Taylor & Francis.
Chikwado, E. P. (2017). A Critical Analysis of Karl Marx's Conception of Society and Individual. Journal of Law and Allied Discipline, 4(3), 114–119.
Donovan, J. (2000). Feminist Theory: The Intellectual Traditions, Third Edition. Bloomsbury Publishing.
Firchow, P. E., & Real, H. J. (2005). The Perennial Satirist: Essays in Honour of Bernfried Nugel. LIT Verlag Munster.
Mojab, S. (2015). Marxism and Feminism. Zed Books Ltd.
Nelson, D. E. (2011). Women's Issues in Margaret Atwood's The Handmaid's Tale. Greenhaven Publishing LLC.
Ritzenhoff, K. A., & Goldie, J. (2019). The Handmaid's Tale: Teaching Dystopia, Feminism, and Resistance Across Disciplines and Borders. Rowman & Littlefield.
Roozbeh, R. (2018). The Handmaid's Tale Through the Lens of Marxism. Studies in Literature and Language, 17(1), 16–20.
Tandon, N. (2008). Feminine PsycheA Post Modern Critique. Atlantic Publishers & Dist.
Thomas, R. M. (2001). Recent Theories of Human Development. SAGE.
Vogel, L. (2013). Marxism and the Oppression of Women: Toward a Unitary Theory. Brill Publishers.
Wisker, G. (2010). Atwood's The Handmaid's Tale. Bloomsbury Publishing.
Wynne-Davies, M. (2010). Margaret Atwood. Oxford University Press.
Zarrinjooee, B., & Kalantarian, S. (2017). Women's Oppressed and Disfigured Life in Margaret Atwood's The Handmaid's Tale. Advances in Language and Literary Studies, 8(1), 66–71.
Zhao, M. (2020). Power Analysis in The Handmaid'sTale. IRA International Journal of Education and Multidisciplinary Studies, 16(4), 248–252.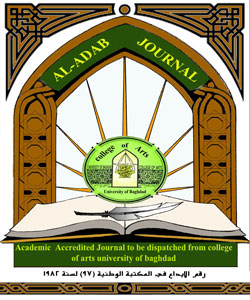 Downloads
How to Cite
TURKI, H., & Abdulrazzaq, D. (2023). A MARXIST READING OF MARGARET ATWOOD'S THE HANDMAID'S TALE. Al-Adab Journal, 1(146), 15–26. https://doi.org/10.31973/aj.v1i146.3726
Section
English linguistics and literature
License
Copyright (c) 2023 حارث اسماعيل تركي، ذو الفقار م. عبد الرزاق
This work is licensed under a Creative Commons Attribution 4.0 International License.
Copyright and Licensing:
For all articles published in Al-Adab journal, copyright is retained by the authors. Articles are licensed under an open access Creative Commons CC BY 4.0 license, meaning that anyone may download and read the paper for free. In addition, the article may be reused and quoted provided that the original published version is cited. These conditions allow for maximum use and exposure of the work.
Reproducing Published Material from other Publishers: It is absolutely essential that authors obtain permission to reproduce any published material (figures, schemes, tables or any extract of a text) which does not fall into the public domain, or for which they do not hold the copyright. Permission should be requested by the authors from the copyrightholder (usually the Publisher, please refer to the imprint of the individual publications to identify the copyrightholder).
Permission is required for: Your own works published by other Publishers and for which you did not retain copyright.
Substantial extracts from anyones' works or a series of works.
Use of Tables, Graphs, Charts, Schemes and Artworks if they are unaltered or slightly modified.
Photographs for which you do not hold copyright.

Permission is not required for: Reconstruction of your own table with data already published elsewhere. Please notice that in this case you must cite the source of the data in the form of either "Data from..." or "Adapted from...".
Reasonably short quotes are considered fair use and therefore do not require permission.
Graphs, Charts, Schemes and Artworks that are completely redrawn by the authors and significantly changed beyond recognition do not require permission.
Obtaining Permission
In order to avoid unnecessary delays in the publication process, you should start obtaining permissions as early as possible. If in any doubt about the copyright, apply for permission. Al-Adab Journal cannot publish material from other publications without permission.
The copyright holder may give you instructions on the form of acknowledgement to be followed; otherwise follow the style: "Reproduced with permission from [author], [book/journal title]; published by [publisher], [year].' at the end of the caption of the Table, Figure or Scheme.