Damma One of the Villages of Anbar
Anmar Nazar Abdulateef Al-Hadithy, PHD

University of Anbar/College of Education for Human Sciences
Keywords:
Damma village, Anbar, ancient history
Abstract
The study of villages and cities in the historical field indicated an important role for several reasons, including the lack of news about them and the extinction of our information about them. Including showing the role that these villages contributed to in historical, economic, military and even social events, if any. The village of Damma has a distinct share of such a role. Despite the scarcity of information and historical references about this village in its ancient history before Islam, it formed an image, albeit partial, of the role that this village played in historical events   in order for this role to expand from the information that we received about it in Islamic history, to form a clearer picture of its prominent role and the value it gained from this role. Such a study enriches historical knowledge and highlights the roles of villages and cities, no matter how small their area is, but it imprinted their imprint in the cognitive memory and preserved for us a distinct heritage that was the fulcrum of these villages in the history of the Arabs before Islam and continued afterwards to exercise their historical role in it.
Downloads
Download data is not yet available.
References
Al-Astakhari: Abu Ishaq bin Muhammad, 1927. Kingdoms Roads, Bed. M: Bd. M
Al-Baladhari: Ahmad Bin Yahya Bin Jaber, 1996 Ansab Al-Ashraf, Edited by: Suhail Zakkar and Riad Zirkali, Beirut, Lebanon: Dar Al-Fikr
Al-Dhahabi: Shams al-Din Muhammad bin Ahmad bin Othman, 2003, biography of the flags of the nobles, edited by: Muhammad ibn Ayadi ibn Abd al-Halim, Casablanca, Morocco: Dar al-Bayan Modern Press,
Al-Dinouri: Abu Hanifa Ahmad Bin Dawood, 2001, Al-Akhbar Al-Twal, edited by: Essam Muhammad Al-Hajj Ali, Beirut, Lebanon: House of Scientific Books
Al-Hamwi: Abu Abdullah Yaqut bin Abdullah Al-Roumi Al-Baghdadi, 1995, Mujam al-Buldan, 2nd Edition, Beirut, Lebanon: Dar Sader
Al-Hamwi: Shihab al-Din Abu Abdullah Yaqut bin Abdullah Al-Roumi, 1993, Irshad Al-Arib to Know the Literature (Dictionary of the Literature), edited by: Ihssan Abbas, Beirut, Lebanon: Dar Al-Gharb Islamic
Al-Idrisi: Abu Abdullah Muhammad bin Muhammad bin Abdullah bin Idris. 1994 Outing of the Longing to break through the horizons, the omnipotent. Misurrah: Library of Religious Culture,
Al-Jahiz: Abu Uthman Amr Ibn Bahr, 2000, Al-Jahiz's letters, edited by: Muhammad Basil Ayoun the Blacks, two volumes, Beirut, two sons: Dar al-Kutub al-'Ilma
Al-Khatib Al-Baghdadi: Ahmed bin Ali Abu Bakr Al-Khatib, 1997 The History of Baghdad or the City of Peace, Beirut, Lebanon: Dar Al-Kutub Al-'Aliyyah
Al-Masoudi: Abu Al-Hasan Ali Bin Al-Hussein Bin Ali, 2000, Mourouj Al-Dahab and Maaden Al-Jawhar, Edited by: Abd Al-Amir Ali Muhanna, Beirut: Al-Alamy Foundation for Publications
Al-Nuwairi: Shehab El-Din Ahmed Ibn Abdel-Wahhab, 2007, The End of God in the Arts of Literature, 3rd Edition, Cairo, Egypt: The National Library and Archives Press
Al-Sabi: Hilal bin Mohsen bin Ibrahim, 1904, Masterpieces of the Emirs in the History of Ministers, edited by: Abd al-Sattar Ahmad al-Faraj, Bed M: Bd. M
Al-Safadi: Salah al-Din Khalil ibn Ibak, 1911, Al-Humayyan jokes in the blind jokes, edited by Ahmed Zaki, Cairo, Egypt: Al-Gamaleya Press 23) Al-Suyuti: Jalal Al-Din Abdel-Rahman, Bed. Pulp al-Bab in Editing Genealogies, Baghdad, Iraq: Muthanna Library
Al-Samaani: Abu Saeed Abdul Karim bin Muhammad bin Mansour, genealogy, investigation: Muhammad Abdul Qadir Atta, (Beirut: Dar al-Kutub al-Ilmiyya, 1998).
Al-Tabari: Muhammad Ibn Jarir, 2008, History of the Apostles and Kings, Edited by: Muhammad Abu al-Fadl Ibrahim, (Beirut, Lebanon: House of Revival of the Arab Heritage,
Al-Tanukhi: Abu Ali Al-Mohsen Bin Ali, Nashwar, 1971 The lecture and the deliberation news, edited by: Abboud Al-Shalji, Hamdoun, Morocco: Aboud Al-Shalji Edition
Al-Tayyari: Ahmad bin Muhammad Al-Salafi Al-Asbahani, Al-Tayyriyat. (Electronic version)
Al-Zubaidi: Moheb Al-Din Abu Al-Fayd Al-Sayed Muhammad Murtada Al-Husseini, 1889, Taj Al-Arous from Al-Qamous Jewels, Egypt, Cairo: The Charitable Printing Press established in the beauty of Egypt,
Author of the third century AH, 1971, The News of the Abbasid State, and it includes the news of Abbas and his son, edited by: Abdul Aziz al-Douri and Abdul-Jabbar al-Muttalbi, Beirut, Lebanon: Dar al-Tale'ih
Ibn Abd Rabbo: Abu Omar Shihab al-Din Ahmad bin Muhammad Al-Andalusi. 1984, The Unique Decade, Beirut, Lebanon: Dar al-Kutub al-Ilmiyya
Ibn Al-Adim: Al-Sahib Kamal Al-Din Omar bin Ahmed, 1988, in order to seek the history of Aleppo, investigation: Dr. Suhail Zakar, Beirut. Lebanon: House of Fikr
Ibn al-Atheer: Abu al-Hasan Ali bin Abi al-Karam al-Jazari, 2006. Al-Kamil fi al-Tarikh, edited by: Muhammad Yusef al-Dakkak, 4th floor, Beirut. Lebanon: House of Scientific Books
Ibn al-Jawzi: Abu al-Faraj Abd al-Rahman bin Ali, 1941 The Regular, Hyderabad Dark. India: Ottoman Encyclopedia Press
Ibn Imad: Abu al-Falah Abd al-Hayy bin Imad, hand. T. Gold nuggets in news from gold, Beirut. Lebanon: House of Scientific Books
Ibn Manzoor: Muhammad bin Makram bin Manzoor, the African-Egyptian. 2003 Lisan Al Arab, Beirut. Lebanon: House of Scientific Books
Ibn Miskawayh: Abu Ali Ahmad Ibn Muhammad Ibn Ya`qub, 2003, The Experiences of Nations and the Succession of Determination, Edited by: Syed Kasrawy Hassan, 1st Edition, (Beirut. Lebanon: Dar Al-Kutub Al-Ilmiyyah
Khasbak: Jaafar Hussain, 1974, Irrigation in Iraq during the Seljuk Era, Journal of the College of Arts, Issue 18.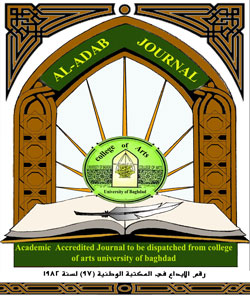 How to Cite
Al-Hadithy, A. (2021). Damma One of the Villages of Anbar. Al-Adab Journal, 1(138), 145-158. https://doi.org/10.31973/aj.v1i138.1736
Copyright (c) 2021 Anmar Nazar Abdulateef Al-Hadithy, PHD
This work is licensed under a Creative Commons Attribution 4.0 International License.
Copyright and Licensing:
For all articles published in Al-Adab journal, copyright is retained by the authors. Articles are licensed under an open access Creative Commons CC BY 4.0 license, meaning that anyone may download and read the paper for free. In addition, the article may be reused and quoted provided that the original published version is cited. These conditions allow for maximum use and exposure of the work.
Reproducing Published Material from other Publishers: It is absolutely essential that authors obtain permission to reproduce any published material (figures, schemes, tables or any extract of a text) which does not fall into the public domain, or for which they do not hold the copyright. Permission should be requested by the authors from the copyrightholder (usually the Publisher, please refer to the imprint of the individual publications to identify the copyrightholder).
Permission is required for: Your own works published by other Publishers and for which you did not retain copyright.
Substantial extracts from anyones' works or a series of works.
Use of Tables, Graphs, Charts, Schemes and Artworks if they are unaltered or slightly modified.
Photographs for which you do not hold copyright.

Permission is not required for: Reconstruction of your own table with data already published elsewhere. Please notice that in this case you must cite the source of the data in the form of either "Data from..." or "Adapted from...".
Reasonably short quotes are considered fair use and therefore do not require permission.
Graphs, Charts, Schemes and Artworks that are completely redrawn by the authors and significantly changed beyond recognition do not require permission.
Obtaining Permission
In order to avoid unnecessary delays in the publication process, you should start obtaining permissions as early as possible. If in any doubt about the copyright, apply for permission. Al-Adab Journal cannot publish material from other publications without permission.
The copyright holder may give you instructions on the form of acknowledgement to be followed; otherwise follow the style: "Reproduced with permission from [author], [book/journal title]; published by [publisher], [year].' at the end of the caption of the Table, Figure or Scheme.