Evaluating the performance of Arabic language teachers to teach adults in illiteracy centers based on the reading skills for beginners
Azhar Hussein Ibrahim

Ministry of Education / General Directorate of Curricula
Keywords:
Evaluating, centers based, teach adults in illiteracy, beginners
Abstract
The aim of research is to determine the suitable techniques to develop the reading skills, pronouncing skills, comprehension skills for beginners in illiteracy centers and detecting the performance of Arabic teachers in basic stage.
In order to achieve the target of this study. The researcher used the descriptive curricula depending on the study as it is on the reality, and the researcher adopted the tool of the study (observing card) which consist of (38) techniques to develop reading skills .The tool of the was applied to a community consisting of (21) male and female teachers in illiteracy centers in Baghdad governorate during the first semester in 2018. The researcher used many statistical techniques to come up with these results:
Determine three basic reading skills (reading skill, pronouncing skill, comprehension skill), each single skill consist of many sub skills which are (15) and each one of these need (38) techniques to develop it.
The Arabic teachers' performance was medium in teaching adults to develop the techniques of reading skills for beginners in illiteracy centers.
The Arabic teachers' performance was medium in teaching adults to develop the techniques of pronouncing skills for beginners in illiteracy centers.
The Arabic teachers' performance was medium in teaching adults to develop the techniques of comprehension skills for beginners in illiteracy centers.
The reading skills for beginners in illiteracy centers refer to their scientific certificate and years of service.      
According to the results of the study. The researcher recommended to write a guide for beginners in illiteracy centers to develop reading skills, in order to put an end to teachers' explanations and specialization, let the teachers of Arabic language teach reading and get benefit from the list of techniques that the researcher reach, let the teachers of Arabic language teach Arabic in these centers with increasing the financial and moral incentives. The researcher suggested many studies and researches which are intended to be complementary to this study.
It's not weird to describe the Islamic nation as (Iqraa nation) and it's not surprising that the educators describe (Iqraa nation) as don't read. We are (Iqraa nation) because the first verse come down from the (QURAN) was (Surah AL-alaq).
Downloads
Download data is not yet available.
References
Abaidat, Muhammed Saiel, Performance Evaluation, The Magazine of Teachers Massage, Number 2, Volume 36, Amman 1995.
Abd Al-Maojood, Muhammad And Others, Basics of Curriculla And Its Organizations, Culture House, Cairo1981.
Abdu AL Aal, Abdul Munem Saied (D.T), Methods of Teaching Arabic Language, Ghareeb Library, Egypt.
Adas, Muhammed Abdu Al-Rahmman, Affective Teacher and Effective Teaching, Amman, DAR Al0Fiker For Printing and Publication, First Edition ,1996.
Afyfy, Muhammed Abd AL –Hady, The Concept of Teaching Adults, The Arabic Organization for Education, Culture and Science, First Part ,1976.
Al –Basses Hatem Hussain, The Developing of Reading and Writing Skills: Several Strategies for Teaching and Evaluation, Damascus, The Syrian General Board for Book ,2011.
Al –Faraby, Abdul Lateef And Others, Encyclopedia of Educational Science, Series of Educational Science, DAR Al-Matabe For Printing and Publishing, Moroco,1994.
Al –Gareeb, Ramzeyh, The Evaluation and The Psychological, Educational Measurements, Egyptian Anglo Library, Cairo ,1978.
Al –Hammadi, Rashed Ben Saleh Ben Muhammad, The Level of Enabling the Teachers OF Arabic Language in Teaching Adults from The Techniques of Developing the Beginners Reading Skills, MA Thesis in Curriculla And Arabic Language Teaching Methods, Saudi Arabia, Um Al _qura University, Collage of Education 2014(AD).
Al juburi, hamdun mehi Abais, the evalion of teacher's performance of social studies in the primary stage according to necessary sculls and building his development program., Baghdad University college of education (Ibn Rushed), Un Published (PHD) Thesis 1998,
Al –Kersh, Muhammad Ahmed, The Required Attitudes for The Creative Operation and Its Availability Upon A Group of Math's Teachers in The Secondary Stage in Qatar, Magazine of Visual Education, Number 122, Collage of Education, Qatar 1997.
Al –Khankawy, Ibrahim Muhammad, Teaching Adults and The Era problems, AL-Reyad, Dar Al-Andalus 1994.
Al –Leqanny, Ahmad Hassan, Al Jamal, Ali Ahmad, The Encyclopedia of The Educational Terms Identified in Curriculla And Methods of Teaching, Book World, Third edition, Cairo ,2003.
Al –Quraishy, Abdul –Fattah, New Directions in Students' Evaluating Techniques, The Magazine of Arab Gulf Massage, Number (18) Al Reyad1986
Al –Sammaraey, Mahdy Saleh, The Techniques and The Strategies Concerning Classroom Management, The Iraqi Magazine for Psychological and Educational sciences And Sociology, Collage of Education for Girls, Tikrit University, Section 2, number 1,2001.
Al samodi, khalid, educational phrases from Islamic culture, publications of are Islamic organization for education science and cuIture aysyskw 2008,
Al_Fairuse Aabady, M. Y. (1997). Comprehensive Dictionary. 4th Edition. Al_Resalah Institute, Beitut
Al-Aanny, Aayef Habeeb, To A Sample of Evaluating the Programs of Adult Learning in Arabic Countries in The Science of Teaching Adults, The Magazine of Teaching Adults, The Fourth and Fifth Part, Tunis,1992.
Al-Hameedy, Abd-Al-Rahman Saad, Researches and Studies in The Field of Literacy and Teaching Adults, Second Part, First Edition, AL-Reyad, Al-Farazdaq Commercial Printing Press 1993.
Al-Jamal, Muhammad Jihad, Developing the Critical Reading Skills, Educational Studies, Seasonal Magazine, Second Edition, Twenty Third Year 2000.
Al-Khalifah, Hassan Jaafer, Sections in Teaching Arabic Language, AlRashed Library, Second Edition, AL-Reyad,2003.
Allam. Slah AL-Deen Mahmood, Teachers Guide in Evaluating The students In Social Studies, Dar AL-Fiker Al –Araby, First Edition Cairo,1997.
Al-Quraishee, Aaeda Mukhlf Mahdy, Building A sample For Evaluating Geography Textbooks in Intermediate Level, Baghdad University college of education (Ibn Rushed), Un Published (PHD) Thesis ,2000.
AL-Rossan Saleem Salmah And Others, Principals of Measurement and Evaluation its Educational and Humanistic Application, Amman, Amman Association for Cooperative Printing Press ,1995.
Al-Shemmarry, Thamir, Najem, The Evaluation of The Arabic Teachers Performance in Learning Conversation in The Primary Stage, University of Babel, Basic Educational Collage ,2002.
Alyan, Rabhy Mustafa And Others, Techniques of Scientific Research its Application In planning And Management, Amman DAR Al- Saffaa ,2008.
Badawy, Ahmad Zaki, The Encyclopedia of Teaching and Learning Expressions, Beirut, Dar Al _Fiker Al –Arabi 1980.
Bazarah, Isam Bin Abdulla Ahmad, The Evaluation of Arabic Language Teachers'Performance in Teaching Reading in the light of the Required Skills to Develop the Creative Thinking to the Student of in The Holly Capital, MA Thesis, Um Al _qura University, Collage of Education, Saudi Arabia ,2008. (AD).
Dwood, Azeez Hanna And Anwer Hussain, Curriculla Of Educational Research, Ministry of Higher Education and Scientific Research, University of Baghdad, Dar Al –Hikmah For Printing And puplication,1990(AD).
Eisawee, Abdu Al-Rahman Muhammed, Measurements and Experimenting in Education and Psychology, DAR AL Nahdah in Egypt For Printing and Publishing, Beirut,1974.
Holly Quran.
Ibn Mador, Abu Al_ Fadel Jamal AL_DEEN Bin Muhammed, Arabs tongue, third edition, part4/part 13/part17, Lebanon, Beirut, Dar of Renew Heritage, Arabic History Institution,1994 (AD).
Ibrahim, Bader Hassan, the problem of dropping out students from literacy classes and the learning of adults in Jdah, MA Thesis, Um Al _qura University1992.
Ibreer Basheer, Teaching Reading between Theory and Application. New Book World, Irbed, Amman ,2007 (AD).
Jaber, Jaber Abd AL-Hameed, Searching Curricula in Education and Psychology, Dar AL-Nahdah Al-Arabyah, Cairo ,1996. (AD).
Kareem, Muhammed Ahmed and, zyan, Abdul-Razzaq, Teaching Adults Al- Jamhoryah Printing Press2003.
Mukhtar, Abdulla Najm Al -Deen, The Relation Between Preparing Teachers with The Reading Achievements for Learners in Literacy Centers in Iraq, Collage of Education, University of Baghdad ,1978.
Oadah, Ahmed Sulaiman, Measurements and Evaluation, Dar AL –Amal, Second Edition, Jorden 1993.
Qunait Jamal, The Linguistic Needs for Adults, A Practical Study in Literacy Centers In jaijel, (MA)Thesis, University of Qasantenah, Algeria ,2008.
The Arabic Organization for Education, Culture and Science alecso, www.alecso.org.tn, 2013.
UNESCO Organization, United Nations for Education, Science and Culture, Education for All, Reading for Life, France,2006.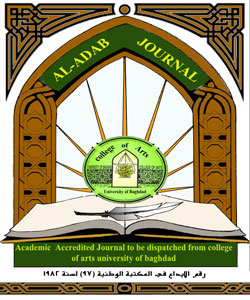 How to Cite
Hussein Ibrahim, A. (2021). Evaluating the performance of Arabic language teachers to teach adults in illiteracy centers based on the reading skills for beginners. Al-Adab Journal, 1(136), 315-342. https://doi.org/10.31973/aj.v1i136.1046
Section
Educational and psychological sciences
Copyright (c) 2021 Azhar Hussein Ibrahim
This work is licensed under a Creative Commons Attribution 4.0 International License.
Copyright and Licensing:
For all articles published in Al-Adab journal, copyright is retained by the authors. Articles are licensed under an open access Creative Commons CC BY 4.0 license, meaning that anyone may download and read the paper for free. In addition, the article may be reused and quoted provided that the original published version is cited. These conditions allow for maximum use and exposure of the work.
Reproducing Published Material from other Publishers: It is absolutely essential that authors obtain permission to reproduce any published material (figures, schemes, tables or any extract of a text) which does not fall into the public domain, or for which they do not hold the copyright. Permission should be requested by the authors from the copyrightholder (usually the Publisher, please refer to the imprint of the individual publications to identify the copyrightholder).
Permission is required for: Your own works published by other Publishers and for which you did not retain copyright.
Substantial extracts from anyones' works or a series of works.
Use of Tables, Graphs, Charts, Schemes and Artworks if they are unaltered or slightly modified.
Photographs for which you do not hold copyright.

Permission is not required for: Reconstruction of your own table with data already published elsewhere. Please notice that in this case you must cite the source of the data in the form of either "Data from..." or "Adapted from...".
Reasonably short quotes are considered fair use and therefore do not require permission.
Graphs, Charts, Schemes and Artworks that are completely redrawn by the authors and significantly changed beyond recognition do not require permission.
Obtaining Permission
In order to avoid unnecessary delays in the publication process, you should start obtaining permissions as early as possible. If in any doubt about the copyright, apply for permission. Al-Adab Journal cannot publish material from other publications without permission.
The copyright holder may give you instructions on the form of acknowledgement to be followed; otherwise follow the style: "Reproduced with permission from [author], [book/journal title]; published by [publisher], [year].' at the end of the caption of the Table, Figure or Scheme.