Extent of reliance on smartphone and mobile applications to provide news
An exploratory study of a sample of users of these devices
Fatin Ali Al-Daghistani

University of Baghdad / College of Education Ibn Rushd for Humanitarian Sciences Media / Radio and Television Press
Abstract
This study examines the extent to which users of smart phones and portable devices depend on the available applications in these devices to obtain news, as the study chose an intentional sample of users of these devices to identify the source of dependence and its ratio and the reasons behind it, and the study relied on the survey approach in its descriptive and analytical aspect, And I reached conclusions, including the researchers' reliance on ten types of applications that represent available programs to obtain news issued by the Al-Jazeera News app for Android
Downloads
Download data is not yet available.
References
Essam Suleiman Al-Mousa. (1986 AD). The portal in Mass Communication. Irbid: Al-Kitabi Library House.
Fatima Zahra Abdel Fattah. (2016). Media integration and news industry. Cairo: Dar Al-Arabi for Publishing and Distribution.
Glory Khudair. (24 4, 2016). media. Redemption date 4/21/2020, from https://mawdoo3.com5
Ibrahim Madkour. (1983). Philosophical Lexicon. Cairo: General Authority for Press Affairs.
Jaber Majeed Hamid Al-Attabi. (1991). Social research methods. Mosul: House of Books for Printing and Publishing.
Khaled Ahmed Farhan, and Raed Abdul Khaleq Abdullah. (2013). Research Methodology. Amman: Dar Al-Ayyam.
Laila Hussein Mohamed El-Sayed. (May 25-27, 1998). The role of means of communication in providing Egyptian university students with information on current events within the framework of the theory of dependence on the media. The fourteenth scientific conference of the Faculty of Mass Communication. Cairo University.
Location. (No date). Dictionary of Contemporary Arabic Language. Redemption date 4/22/2020, from https://www.arabdict.com
Mr. Salah El-Sawy. (13 3, 2019). Applications of smart phones and mobile devices in document and archive centers - an analytical study. (Hamad Bin Khalifa University Press) Redemption date 4/22, 2020, from https://www.qscience.com/content/journals/10.5339/jist.2019.5?crawler=true
Nihad Abdel-Maqsoud. (November 21, 2018). The theory of reliance on the media foundations and premises. Egyptian Institute for Studies.
Profi Mustafa Elyan, and others. (2000). Scientific Research Approaches and Methods: Theory and Practice. Amman: Safaa Publishing House.
Stefan Chevalier, and others. (2013). Bordeaux Lexicon. (Zahra Ibrahim, the translators) Damascus: The House of the World.
Wissam Kamal. (2014). Electronic and mobile media between the professional and the challenges of technological development (first volume). Cairo, Egypt: Dar Al-Fajr for Publishing and Distribution.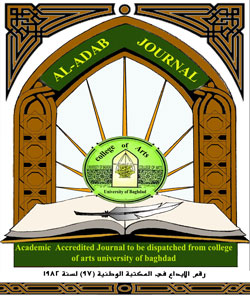 How to Cite
Al-Daghistani, F. (2020). Extent of reliance on smartphone and mobile applications to provide news. Al-Adab Journal, 1(135), 677-690. https://doi.org/10.31973/aj.v1i135.921
Copyright (c) 2020 Fatin Ali Al-Daghistani
This work is licensed under a Creative Commons Attribution 4.0 International License.
Copyright and Licensing:
For all articles published in Al-Adab journal, copyright is retained by the authors. Articles are licensed under an open access Creative Commons CC BY 4.0 license, meaning that anyone may download and read the paper for free. In addition, the article may be reused and quoted provided that the original published version is cited. These conditions allow for maximum use and exposure of the work.
Reproducing Published Material from other Publishers: It is absolutely essential that authors obtain permission to reproduce any published material (figures, schemes, tables or any extract of a text) which does not fall into the public domain, or for which they do not hold the copyright. Permission should be requested by the authors from the copyrightholder (usually the Publisher, please refer to the imprint of the individual publications to identify the copyrightholder).
Permission is required for: Your own works published by other Publishers and for which you did not retain copyright.
Substantial extracts from anyones' works or a series of works.
Use of Tables, Graphs, Charts, Schemes and Artworks if they are unaltered or slightly modified.
Photographs for which you do not hold copyright.

Permission is not required for: Reconstruction of your own table with data already published elsewhere. Please notice that in this case you must cite the source of the data in the form of either "Data from..." or "Adapted from...".
Reasonably short quotes are considered fair use and therefore do not require permission.
Graphs, Charts, Schemes and Artworks that are completely redrawn by the authors and significantly changed beyond recognition do not require permission.
Obtaining Permission
In order to avoid unnecessary delays in the publication process, you should start obtaining permissions as early as possible. If in any doubt about the copyright, apply for permission. Al-Adab Journal cannot publish material from other publications without permission.
The copyright holder may give you instructions on the form of acknowledgement to be followed; otherwise follow the style: "Reproduced with permission from [author], [book/journal title]; published by [publisher], [year].' at the end of the caption of the Table, Figure or Scheme.