Verbal Acts In the Short Wall of the Qur'an
A Deliberative Study
Jaafar Zafer Hassouni

Ministry of Education / General Directorate of Education, Baghdad, Rusafa II
Keywords:
deliberative, verbal action, verbatim performative power, performance imperative, determination
Abstract
I saw in this research the study of the verbs in some of the qur'an's short verses in the guidance of the judicial approach and according to the division of Austin and Searle of the verbs, which was based on its division on the division of Austin with some changes according to the first sees and thus divided my research into an introduction to indicate the importance of research, and then the beginning of the preface, which will contain a brief summary of deliberative and the theory of speech verbs, The first topic will involve Austin's division of actions and the initiation of the changes that Searle made to the first division, while the second one made us a practical study of the verbs of the words that were mentioned in the qur'anic light, and in the end we draw to the conclusion and the most important sources that we relied on in our research.
Downloads
Download data is not yet available.
References
The Holy Quran
(Deceased: 1270 AH), T: Ali Abd al-Bari Attiyah, Publisher: Dar al-Kutub al-Ilmiyya - Beirut, 1st Edition, 1415 AH
Ahkam al-Qur'an, Ahmad bin Ali Abu Bakr al-Razi al-Jasas al-Hanafi (deceased: 370 AH), T: Abd al-Salam Muhammad Ali Shaheen, Publisher: Dar al-Kutub al-Ilmiyya, Beirut - Lebanon, 1st Edition, 1415 AH / 1994 AD.
Al-Jawaher Al-Hassan in the Interpretation of the Qur'an, Abu Zayd Abd al-Rahman bin Muhammad bin Makhlouf al-Tha'alabi (deceased: 875 AH), T: Sheikh Muhammad Ali Moawad and Sheikh Adel Ahmad Abd al-Muawjid, Publisher: House of Revival of Arab Heritage - Beirut, Edition 1 - 1418 AH.
Asas al-Balaghah, Abu al-Qasim Mahmoud ibn Amr bin Ahmed, al-Zamakhshari Jarallah (deceased: 538 AH), edited by: Muhammad Basil Uyun al-Soud, Publisher: Dar al-Kutub al-Ilmiyya, Beirut - Lebanon, Edition 1, 1419 AH - 1998 CE, the number of parts: 2.
Communicative and Arabic rhetoric, a. Badis Lahimel, Informer Magazine, No. 7, 2011.
Contemporary Linguistics Schools, Nouman Bougherra, Literature Library, D. Ta, 2004.
Contemporary Semiological Trends, by Hamid Al-Hamidani and others, East African Publications, Casablanca, Maghreb, D. T, 1987.
deliberative concepts and terminology by Dr. Abdel Hafiz Tahirishi, d.
Discourse Strategies, a linguistic comparison, Abd al-Hadi bin Dhafer al-Shehri, United Book House, Beirut, 1st Edition, 2004.
Enlightening interpretation of belief, law and method, d. Wahba bin Mustafa Al-Zuhaili, Publisher: House of Contemporary Thought - Damascus, 2nd Edition, 1418 AH, Number of Parts: 30.
Gharib al-Qur'an by Ibn Qutaybah, Abu Muhammad Abdullah bin Muslim bin Qutaybah al-Dinuri (deceased: 276 AH), investigator: Saeed al-Lahham, d.
Graphic touches, by Fadel bin Saleh bin Mahdi bin Khalil al-Badri al-Samarrai, prepared for the comprehensive: Abu Abdul-Muizz.
Guidance to reach the end in the science of the meanings and interpretation of the Qur'an, its rulings, and sentences from the arts of its sciences, Abu Muhammad Makki al-Qayrawani (deceased: 437 AH), The Investigator: A Collection of University Theses at the College of Graduate Studies and Scientific Research - University of Sharjah, 2nd Edition, 2008 AD.
Interpretation of the Matridi (interpretations of the Sunnis), Muhammad bin Muhammad bin Mahmoud, Abu Mansur al-Matredi (died: 333 AH), the investigator: Dr. Magdy Baslum, Publisher: Dar Al-Kutub Al-Ilmiyya - Beirut, Lebanon, 1st Edition, 1426 AH - 2005 AD.
Jalal Al-Din Al-Suyuti (deceased: 911 AH), Al-Hawamis Explained the Collection of Mosques, The Investigator: Abdel-Hamid Hindawi, Publisher: Al-Tawfiqeya Library - Egypt.
Jokes in the Noble Qur'an (On the meanings of the Noble Qur'an and its translation), Ali bin Fadhal bin Ali al-Qayrawani (deceased: 479 AH), edited by: Dr. Abdullah Abd al-Qadir al-Tawil, publishing house: Dar Al-Kutub Al-Ilmiyya - Beirut, 1st Edition, 1428 AH - 2007 AD.
Language and significance, opinions and theories, d. Adnan Bin Dhiril, Publications of the Arab Writers Union, Damascus, 1981.
Lectures in linguistics, a series of lectures according to linguistics curricula in Iraqi universities.
Linguistics, Its Current Trends and Issues, Nouman Bougherra, The World of Modern Books, Jordan, 1st Edition, 2009.
Modern Trends in the Science of Styles and Discourse Analysis, Ali Ezzat, Nubar Publishing House, Cairo, 1st Edition, 1996.
Organize the pearls in relation to verses and suras, Ibrahim bin Omar bin Hassan al-Rabat bin Ali, publisher: Dar al-Kitab al-Islami, Cairo
Philosophy and Language, Criticism of the Linguistic Turn in Contemporary Philosophy, Dr. Al-Zawawi Ghorra, Dar Al Taleea, Beirut, 1st Edition, 2005
Quranic narrative discourse, a stylistic, deliberative study, Nur al-Din is an option.
Revealing and clarifying the interpretation of the Qur'an, Ahmad bin Muhammad bin Ibrahim al-Tha'labi, Abu Ishaq (deceased: 427 AH), T: Imam Abu Muhammad bin Ashour, Publisher: House of Revival of Arab Heritage, Beirut - Lebanon, 1st ed., 1422 AH - 2002 AD.
Revealing the facts of the mysteries of the revelation, Abu Al-Qasim Mahmoud bin Amr bin Ahmed, Al-Zamakhshari Jarallah (died: 538 AH)
Schools of Linguistics, Their Flags and Principles, Muhammad Azouz, Dar Al-Radwan Press, Oran, 2nd Edition, 2008.
Secrets of Repetition in the Noble Qur'an, Mahmoud bin Hamza al-Kirmani, d. Abdul-Qadir Ahmed Atta, Cairo, 1396 AH, d.
Study of verbal verbs in the Noble Qur'an - a deliberative comparison, Hakima Boukrumah, Publications of Discourse Analysis Lab, Dar Al Amal, No. 3, 2008.
Surat al-Kafirun, a rhetorical study, Asma Saud al-Khattab, Zakho Journal, Volume 1, Issue 2, 2013.
Tafsir al-Tastari, Abu Muhammad Sahl bin Abdullah bin Yunis bin Rafi al-Tastari (deceased: 283 AH), compiled by: Abu Bakr Muhammad al-Baladi, investigator: Muhammad Basil Uyun al-Soud, Publisher: Muhammad Ali Baydoun Publications / Dar al-Kutub al-Ilmiyya - Beirut, Edition 1 - 1423 E
Text and context, an investigation of the research in semantic and deliberative discourse, Van Dyck, translated by: Abdelkader Kenini, Morocco, Dr. T, 2000 AD.
Text Science, Interdisciplinary Entrance, Van Dyck, translated by: Said Hassan Beheiry, Cairo Book House, 1st Edition, 2001.
The deliberative among Arab scholars, a deliberative study of the phenomenon of verbal verbs in the Arab linguistic heritage, by Masoud Sahraoui, Dar Al Tale'a, Beirut / Lebanon, 1st Edition, 2005.
The electrolytes = what some of the imams of the language were unique to, Radhi al-Din al-Hasan bin Muhammad bin al-Hasan al-Qurashi al-Saghani (died: 650 AH), edited and presented by: Mustafa Hijazi
The End in Gharib al-Hadith and Impact, Majd al-Din Abu al-Sa'adat al-Mubarak bin Muhammad bin Muhammad bin Muhammad ibn Abd al-Karim al-Shaibani al-Jazari Ibn al-Atheer (deceased: 606 AH), Publisher: The Scientific Library - Beirut, 1399 AH - 1979 CE, edited by: Taher Ahmad al-Zawy - Mahmoud Muhammad Peripteral.
The entirety of the language, Ahmad bin Faris bin Zakaria al-Qazwini al-Razi, Abu al-Hussein (deceased: 395 AH), study and investigation: Zuhair Abdul Mohsen Sultan.
The linguistic reference in deliberative theory, Journal of Literary Studies, Insight Center for Research, Algeria.
The meanings of the Qur'an, Abu Zakaria Yahya bin Ziyad bin Abdullah bin Manzoor, T: Ahmad Yusuf al-Najati, publisher: Dar Al-Masria for Authorship and Translation.
The Spirit of Meanings in the Interpretation of the Great Qur'an and the Mathani Seven, Shihab al-Din Mahmoud bin Abdullah al-Husayni al-Alusi
The Theory of Verbal Acts between Contemporary Linguists and Arab Rhetorics, Student Sayyid Hashem Al-Tabatabai, Kuwait University Press, 1994.
The Theory of Verbal Event from Austin to Searle, Dr. Al-Eid Jallouli, Al-Athar Magazine, Special Issue, Ignition of the Fourth International Forum on Discourse Analysis, Qasidi Merbah University, Algeria
The translation of the Qur'an, Abu Jaafar al-Nahas Ahmad bin Muhammad bin Ismail bin Yunis al-Muradi al-Grami (deceased: 338 AH), annotated and commented on it: Abd al-Moneim Khalil Ibrahim, publisher: Muhammad Ali Baydoun's publications, Dar al-Kutub al-Ilmiyya, Beirut, 1st Edition, 1421 AH.
Verbal Verbs in the Noble Qur'an, Surat Al-Baqara, PhD thesis deliberative study, College of Arts and Languages, Algeria.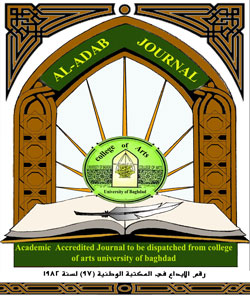 How to Cite
Hassouni, J. (2021). Verbal Acts In the Short Wall of the Qur'an. Al-Adab Journal, 1(138), 43-64. https://doi.org/10.31973/aj.v1i138.1132
Section
Linguistics and Arabic literature
Copyright (c) 2021 Jaafar Zafer Hassouni
This work is licensed under a Creative Commons Attribution 4.0 International License.
Copyright and Licensing:
For all articles published in Al-Adab journal, copyright is retained by the authors. Articles are licensed under an open access Creative Commons CC BY 4.0 license, meaning that anyone may download and read the paper for free. In addition, the article may be reused and quoted provided that the original published version is cited. These conditions allow for maximum use and exposure of the work.
Reproducing Published Material from other Publishers: It is absolutely essential that authors obtain permission to reproduce any published material (figures, schemes, tables or any extract of a text) which does not fall into the public domain, or for which they do not hold the copyright. Permission should be requested by the authors from the copyrightholder (usually the Publisher, please refer to the imprint of the individual publications to identify the copyrightholder).
Permission is required for: Your own works published by other Publishers and for which you did not retain copyright.
Substantial extracts from anyones' works or a series of works.
Use of Tables, Graphs, Charts, Schemes and Artworks if they are unaltered or slightly modified.
Photographs for which you do not hold copyright.

Permission is not required for: Reconstruction of your own table with data already published elsewhere. Please notice that in this case you must cite the source of the data in the form of either "Data from..." or "Adapted from...".
Reasonably short quotes are considered fair use and therefore do not require permission.
Graphs, Charts, Schemes and Artworks that are completely redrawn by the authors and significantly changed beyond recognition do not require permission.
Obtaining Permission
In order to avoid unnecessary delays in the publication process, you should start obtaining permissions as early as possible. If in any doubt about the copyright, apply for permission. Al-Adab Journal cannot publish material from other publications without permission.
The copyright holder may give you instructions on the form of acknowledgement to be followed; otherwise follow the style: "Reproduced with permission from [author], [book/journal title]; published by [publisher], [year].' at the end of the caption of the Table, Figure or Scheme.